Moo Cow Alistar
Skin spotlight of Moo Cow Alistar lol skin
Wonder how to get Moo Cow Alistar? It is currently on the PBE server, you can hop right in there and buy it right now and test it! The skin is showcased in the skin review to the right!
The Moo Cow Alistar plays on the irony of a cow wearing a cow suit. Much like the Definitely Not Udyr where. The skin will be released to the client at Patch 7.6 which is estimated to be before April 1st. This skin is a part of 2017
April Fools
skins. Which is always a funny addition each year!
If you want to check out the new patch, Lolskinshop can help you, we are selling PBE accounts.
Note
Lolskinshop.com does not sell this skin, never have, and most likely never will! This page is an information page. We have collected all the different parts needed to create one good page that highlights every part of this specific league of legends skin. We would also like to point out that the only way to ever getting this skin is through the official Riot store, where you buy it for Riot points. There is no point looking for it on Ebay or other third party sites, it simply does not exist!
Moo Cow Alistar skin rewiew and information.
| | |
| --- | --- |
| Category | Regular skin |
| Price | 975 RP |
| Concept | Alistar in Cow dress |
| Model | New model and texture |
| Particles | New particles for Pulverize (Q), Trample (E) and Unbreakable Will (R) |
| Animations | New recall and dance animations |
| Sounds | New SFX for his recall and dance animations |
Moo Cow Alistar skin ingame picture, splash art, and youtube video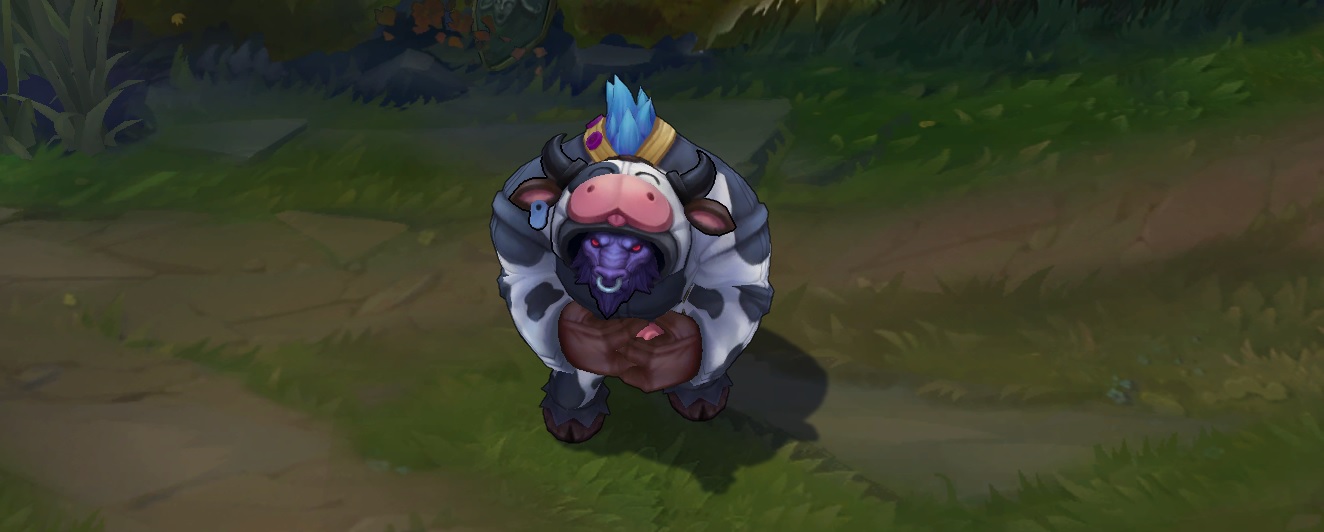 Moo

Cow Alistar

THIS PRODUCT IS OUT OF INVENTORY BROWSE OUR ACCOUNTS CATALOGUE FOR SIMILIAR OR SAME PRODUCTS