Knowing the history
If you are a gamer you know the massive success and popularity the moba game League of Legends (LoL) has gathered over the years, but LoL not only is one of the most popular games at the moment, it has been so for over 10 years which is a very difficult feat to achieve for any video game.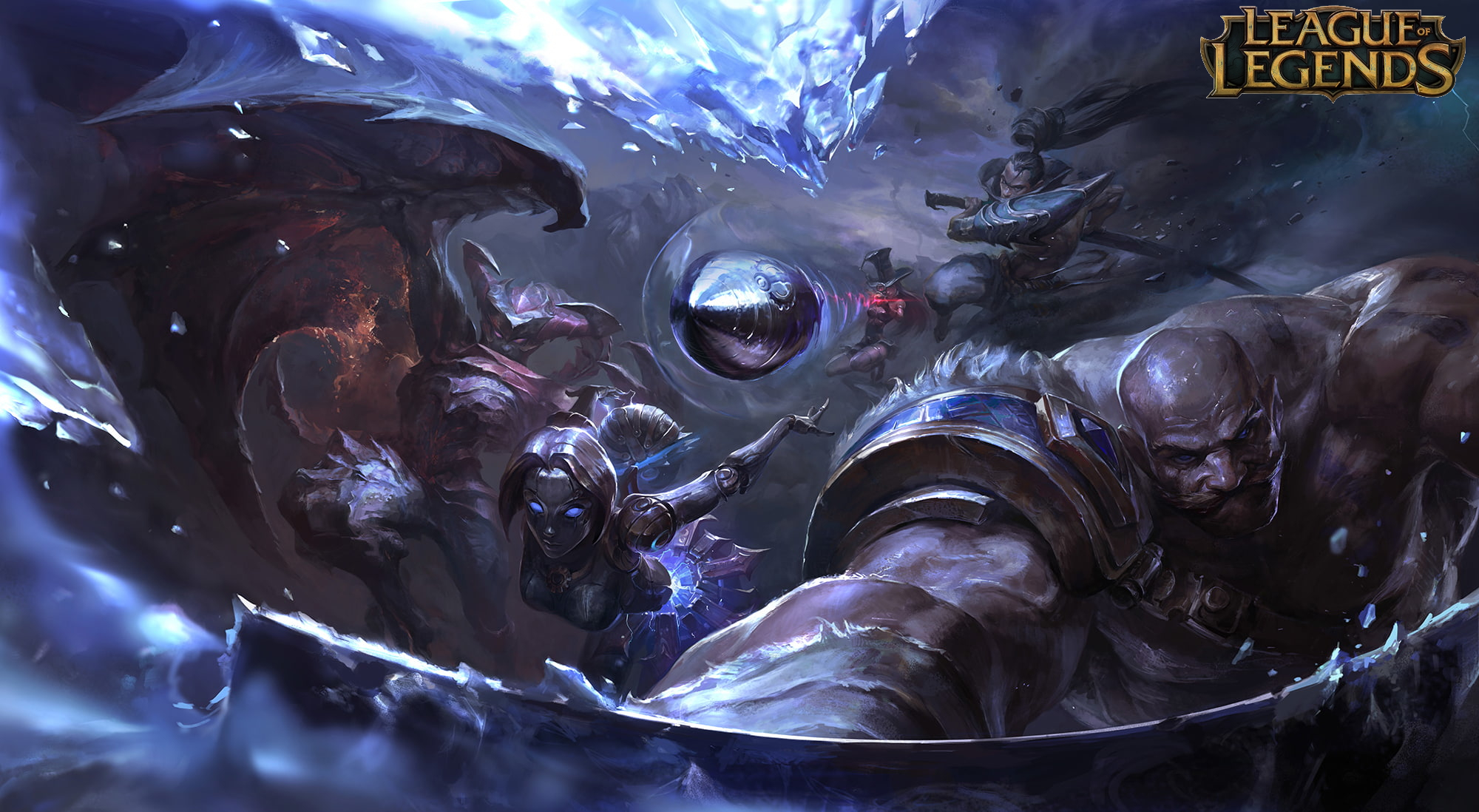 In order to put things into perspective we have to look back at the time it all started almost 15 years ago when founders Brandon "Ryze" Beck and Mark "Tryndamere" Merril 2 passionate DotA (who at the time was only a mod for the game Warcraft III : The Frozen Throne) players decided to create its successor thanks to the instrumental help of Steve "Guinsoo" Feak and Steve "Pendragon" Mescon who previously worked in DotA development.
They announced the game release in October 2008 and it was issued to the public in October 26th 2009 after 6 months of beta testing.
The initial game release was received well and has quickly grown in popularity becoming by July 2012 the most played PC game both in Europe and North America according to Forbes.
League of Legends showed no signs of slowing down and thanks to predominant presence on major streaming platforms as Twitch and Youtube it managed to reach an impressive playerbase of 67 million per month and nearly 8 million concurrent during peak hours by 2014 as highlighted in a Wall Street Journal interview.
Riot themselves made a statement in 2016 proudly announcing they have reached the 100 million players per month monumental landmark attributed mostly to the continuous growth on streaming platforms and their competitive scene widespread influence who culminated in 2018's World Championship reaching an astonishing 200 million unique viewers.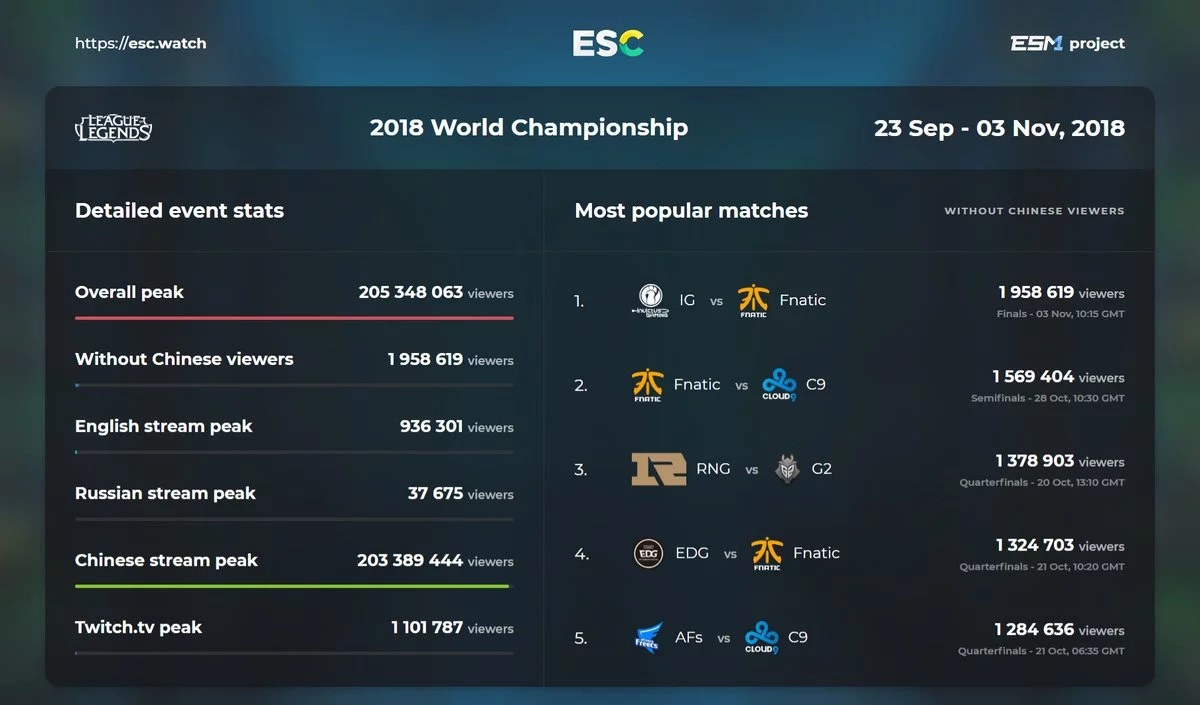 Understanding the data and League of Legend's growth
Since 2016 Riot didn't make any official statements about the exact number of their players but by analyzing relevant data we can reach an estimate for the current League of Legends playerbase.
The website leagueoflegends.com is experiencing a resurgence recently with a respectable placement within the top 500 Alexa worldwide (rank 377) and rank 199 in USA.League of legends search trend on the other hand went down through out the years which is somehow expected from a game already 10 years old.

Analyzing the ranked players numbers on OP.GG shows an increase compared to the same month of 2018 but an overall decrease of around 4% players compared to same date of 2016 when the last official statement about League of Legends player numbers were made.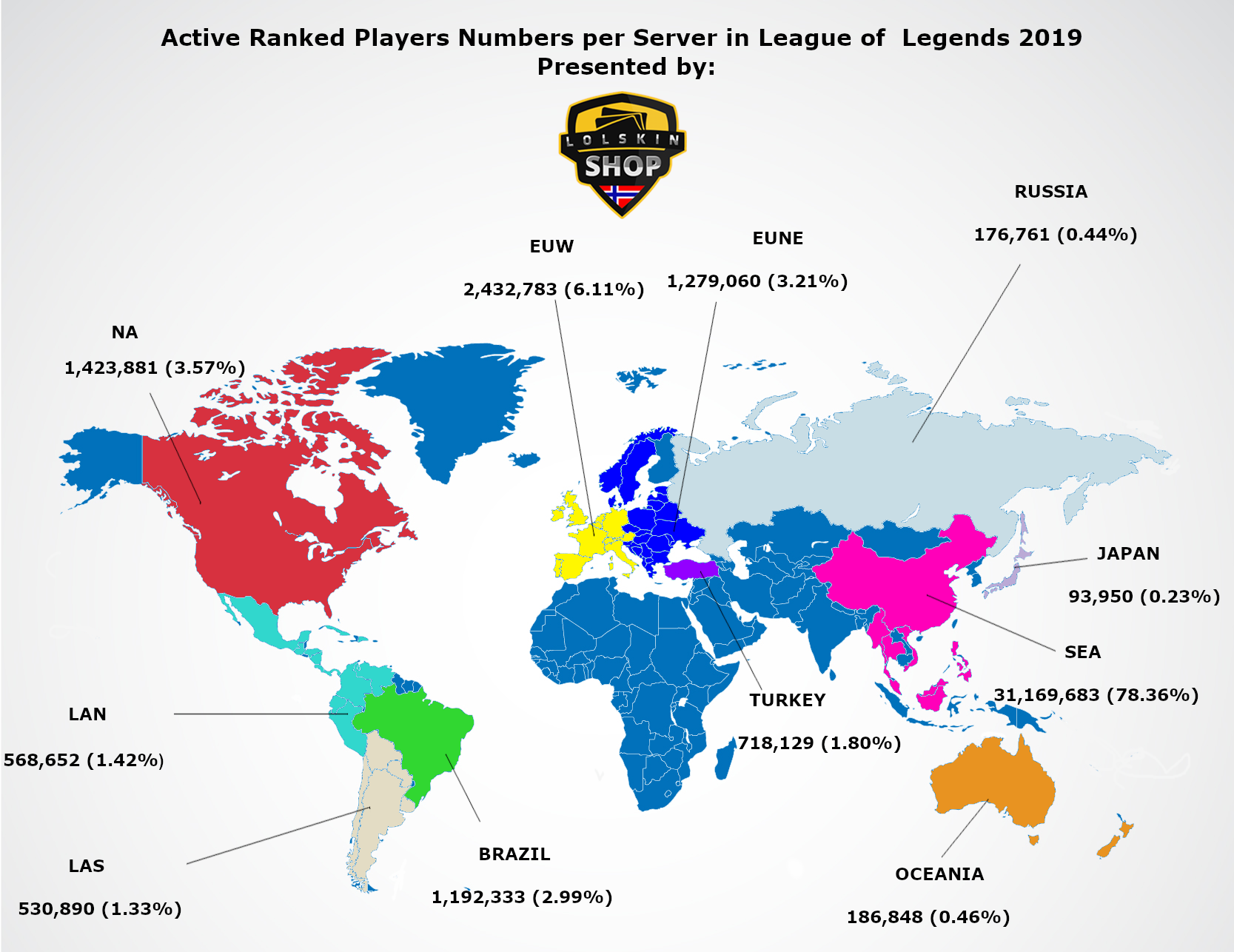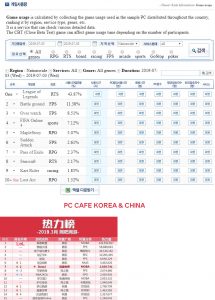 Also a clear indication that League is still doing well number wise is the game popularity in China and Korea internet cafe (see picture).
Other relevant factors which reaffirm that League is indeed not dying are the impressive view numbers for the game on Twitch. A massive help to that was the new introduction of Teamfight Tactics (TFT) game mode gave them a significant boost.
Lastly, if not the most important thing that demonstrates that League is still doing very well is this Superdata research which clearly demonstrates that League of Legends is still the no.1 top earning PC game worldwide even as recent as may 2019.
In conclusion: How many players are still playing the game now in 2019?
As you can see in the graph bellow which includes only official Riot numbers there is massive growth up to and including 2016.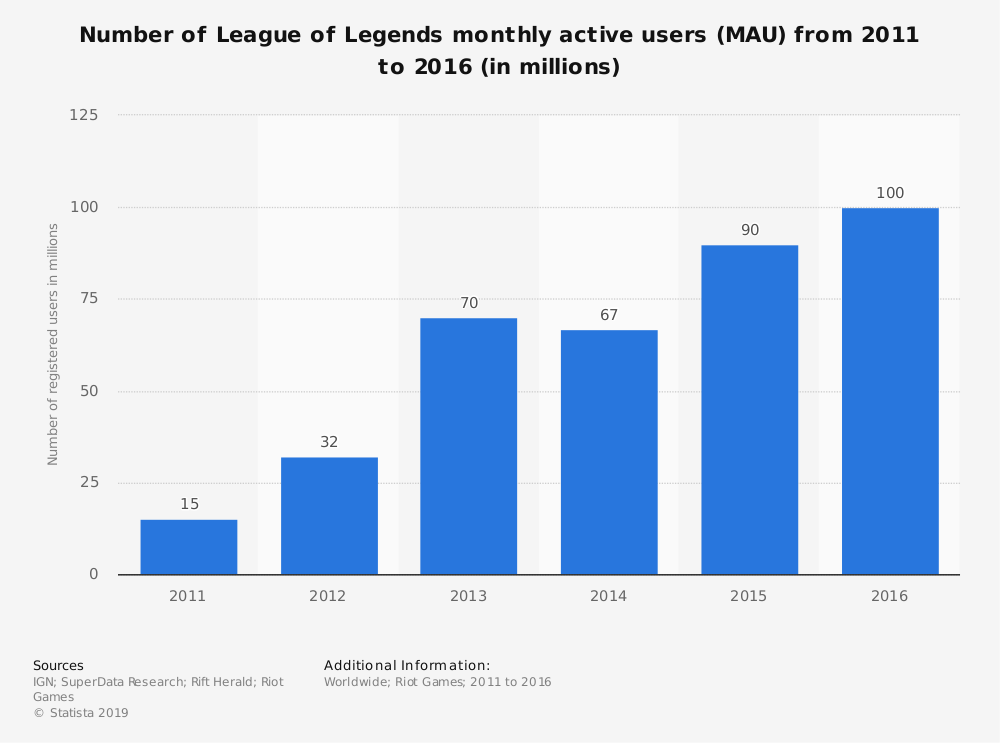 From the data analyzed we can reach the conclusion that League of Legends is in fact not a dying game,
I do believe the growth has somewhat slowed down since 2016 given the downtrend for LoL on google, Riot's reluctance in making an official statement about their numbers and the slight decrease in player ranked numbers.
Therefore with all the factors taken into consideration and by tallying up all the data we estimate the current actively playing League of Legends players to be around 105 million players per month! This number is still a net increase compared to 2016 but the game clearly shows signs of slowing down.
What does this number mean to the future of League of Legends?
While is true games are not destined to always have an uptrend swing and League of Legends has been at the top of moba genre and on the podium of video games as a whole shortly after its release, I think it's safe to assume, for now, that the game still has many years of relevancy left in it especially if the publisher Riot Games continues to make decisions that have a positive impact on the game and its community like the recent addition of the popular auto chess genre game Teamfight Tactics .
If this news made you reconsider playing League or if you just want to hop in and play a few games why not do it with a nice fresh hand leveled smurf account?
Maybe you can get a nice rare skin for yourself from one of the best skin shop and LoL smurf platforms in the world!